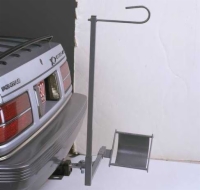 click picture to enlarge
Pride Caddy Manual Wheelchair Carrier
Model: LSCC1001

The Caddy Manual Wheelchair Carrier is a lightweight lift designed for the transportation of manual wheelchairs. It is manufactured to be attached to a Class I hitch, but with the addition of a hitch reducer it can be mounted to Class II and Class III hitches. The easily removable vertical hook post and the front caster bracket are simple to store while you're not using them, leaving only the unobtrusive hitch bar assembly on the vehicle.
Be aware that the distance from the bottom of the hitch tube to the ground should be no more than 20". Once installed, the Caddy may block the view of the vehicle license plate, so you'll want to check and ensure you are not violating your local laws. A license plate adapter is not available.
Call Stan Watson at Pride, ext 1638, for help technical help with Pride vehicle lifts. He is the go-to person at Pride when it comes to installation vehicle lifts.
NOTE: Hitch Not Included
| | |
| --- | --- |
| Lifting Capacity | 100 lb |
| Lift Type | Manual Wheelchair |
| Lift Weight | 15 lb |
| Power Source | None |
| Hitch Class | I, Optional II & III |
| Overall Size | N/A |
| Usable Size | N/A |
| Folds Up | No |
| Fold Up Process | N/A |