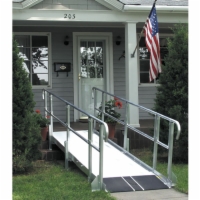 click picture to enlarge
PVI Modular Ramp (Commercial)
Model: PVI-Modular-Ramp

ADA compliant with options for handrail extensions and gates at the entrance and exit.
Can be installed quickly and then moved or reconfigured if necessary.
Assembles without extensive site preparation and requires only a few common tools.
All aluminum construction is virtually maintenance free.
36" wide and can be ordered as short as 4' long.
Slip resistant grooved floor with 100 pounds per square inch capacity.