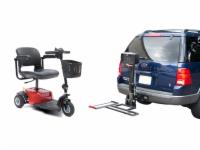 click picture to enlarge
AmeriGlide Traveler Companion Vehicle Lift / Scooter Package
Model: AG015 + AG-TRAVELER

Start enjoying greater freedom and mobility when you purchase the AmeriGlide Traveler Companion Vehicle Lift/Scooter Lift Package. We have worked to pair the ideal scooter and vehicle lift to create an unbeatable combination that is available for an outstanding value.
The AmeriGlide Traveler Travel Scooter is a 3-wheel mobility device that will allow you to travel several miles on a single charge. It is powerful enough to travel indoor and outdoor terrain, yet also lightweight enough to be easy to handle and transport. In addition, its compact size means that it is easy to maneuver and will allow you to safely and easily travel through narrow store aisles, board elevators, or navigate other tight spaces.
With the AmeriGlide Traveler Companion Vehicle Lift, there is no need to worry about finding a lift that can fit your compact vehicle. This versatile option is especially designed to accommodate almost any vehicle and can be installed on class I, II, and III trailer hitches. In addition, this model is made in the United States and comes with an open platform that not only leaves a smaller footprint, but also prevents the lift from interfering with your visibility. Enjoy an incredible value with a wheelchair lift manages to be lightweight without sacrificing power.
Combine the Traveler with its Companion Vehicle Lift and you will have the tools to increase your mobility and independence. When you invest in the AmeriGlide Package deal, you can enjoy both of these superior devices for a great low price. Get started today. Call to speak with one of our experts and place your order!
NOTE: Hitch Not Included
| | |
| --- | --- |
| Scooter Weight Capacity | 250 lb |
| Scooter Overall Length | 37" |
| Scooter Overall Width | 19.5" |
| Total Scooter Weight | 77 lb |
| Max Lifting Capacity | 150 lb |
| Hitch Class | I, II, III |
| Max Hitch Height | 5" |
| Min. Hitch Height | 18" |
| Folding Method | Automatic |