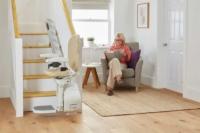 click picture to enlarge
AmeriGlide Horizon Plus Stair Lift
Model: PL-HORIZONPLUSST

If you are finding it increasingly difficult to climb the stairs of your home, don't risk falling and injuring yourself. A stair lift is a practical and affordable solution that will safely transport you and allow you to stay in your home and comfortably age in place. When you invest in a stair lift, why settle for anything but the best available equipment? The AmeriGlide Horizon Stair Lift features the ultimate in stair lift technology and innovation, all for an incredible value.
This model combines a whole host of features that set it apart from the competition. You won't have to choose among various options. With the AmeriGlide Horizon Stair Lift, you can have it all! This compact and powerful model comes with armrests and a footrest that folds up and out of the way when not in use so that it takes up as little room as possible on your staircase. In addition, the ergonomic joystick controls and digital diagnostic display are built directly into the armrest for maximum convenience.
If safety is a top concern, there simply isn't a better option available. The security key switch ensures that no unauthorized users are able to operate your lift and the safety edge sensitivity system can detect obstructions and halt the operation of the chair when necessary. Also, a retractable seatbelt will secure you into place and the infra-red remote control will allow you to call and send your stair lift so that it is always ready and available to use.
Call us today to place your order and choose among a variety of stylish color options to best match your home. Our stair lift experts are ready to answer all your questions and help you improve safety and mobility in your home!
| | |
| --- | --- |
| Drive Type | Rack and Pinion with OSG control |
| Battery Powered | Yes |
| Self Installable | No |
| Basic Installation Included | Yes |
| Standard Capacity | 308 lb |
| Max Track Length, Standard | 14.75' |
| Max Track Length, Optional | 55.25' |
| Track Material | Aluminum Single Rail |
| Swivel Seat | Yes |
| Swivel Seat Rotation | Powered - Top Only |
| Flip-Up Seat | Yes |
| Flip-Up Armrests | Yes |
| Constant Pressure Controls | Yes |
| Footrest Safety Sensor | Yes |
| Seat Width | 17.7" |
| Unit Footprint, In Use | 24.8" |
| Unit Footprint, Folded | 13.5" |
| Call Stations Included | Yes - Wireless |
| Seat Width, Max | 22" |
| Rail Angle, Min | 25° |
| Rail Angle, Max | 62° |
| Digital Diagnostics Display | Yes |
| Key Lock | Yes |